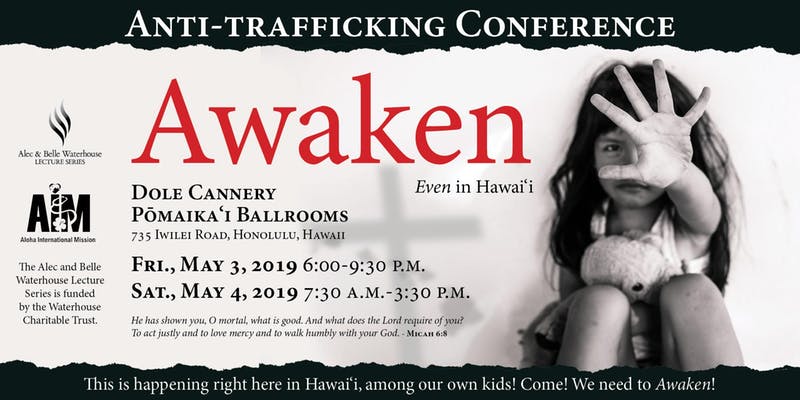 5th Annual AIM Event! [Past Event]
Awaken, Even in Hawaii. This is happening right here in Hawai'i, among our own kids! Come! We need to Awaken!
Presented by Aloha International Mission (AIM) and Alec & Belle Waterhouse Lecture Series (ABWLS)
All parents need to be educated to protect their own children!
We must not think, "This doesn't apply or matter to me in my work,' when it absolutely does! Nearly everyone is impacted by this growing epidemic, and we in the medical field are at the front lines and can make a huge difference! To address this crisis well, we need to be more aware and better equipped.
Healthcare Professionals are especially urged to attend our Anti-Trafficking Conference, Awaken, as 88% of those trafficked may have contact with a medical professional while in captivity, but are missed and not identified! Please join us, and help us spread the word!
CONFERENCE SPEAKERS
Becky McDonald, Founder and President of Women At Risk, International, as the daughter of a missionary doctor, has spent over three decades in the fight to rescue at-risk women and children in over 40 countries and lift them to lives of dignity and worth …whether Asian women sold into sexual slavery, widows of the Kosovo war, or American women silently suffering or deeply searching for the True and Living God.
Pastor Matt Sanders, Waialae Baptist Church, grew up in Hawaii and has a Ph.D. in theology from the University of St. Andrews in Scotland, a master of arts in theology from Southwestern Baptist Theological Seminary, and a bachelor of arts in journalism from the University of Hawaii. Prior to becoming senior pastor at Waialae Baptist Church, Matt served as a professor teaching seminary students at Southwestern.
Local panel of organizations involved with anti-trafficking: Bluewater Mission, Center For Tomorrow's Leaders, Narcotics/Vice Division of the Honolulu Police Department, Ho'ola Na Pua, Made in Hope, Susannah Wesley Community Center
SCHEDULE
Friday 5/3/2019: 6:00pm-9:30pm
6:00pm – doors open for registration
6:30pm – dinner starts
6:45pm – program starts
7:00pm – AIM mission updates: Cambodia, Nepal, Seafarers (Hawaii)
7:45pm – break
8:00pm – Becky McDonald, Women At Risk International, Session 1
9:15pm – ending announcements
9:30pm – END
Saturday 5/4/2019: 7:30am-3:30pm
7:30am – doors open for registration/breakfast starts
8:00am – program starts
8:15am – Pastor Matt Sanders, Waialae Baptist Church, Micah 6:8
9:00am – break
9:15am – Becky McDonald, Session 2
10:45am – break
11:00am – Local Panel introduction
12:00pm – break/lunch starts
12:30pm – Local Panel Q&A discussion
2:00pm – break
2:15pm – Becky McDonald, Session 3
3:15pm – closing remarks – 2020 Anti-Trafficking Conference
3:30pm – END