UPDATE: July 14, 2020 – CANCELLED
We're praying for another opportunity to host this event! We'll keep you posted, so please check back with us! We pray everyone is staying safe during this time.
UPDATE: MAY 22, 2020
Mark your calendars! Conference date changed to Saturday, March 6, 2021.
UPDATE: MARCH 10, 2020
Aloha, We would like to thank you for your interest for the Christian Medical Conference on April 4th, 2020. Unfortunately, due to some health concerns, Dr. Levatino decided to postpone his trip to Oahu. We will therefore be rescheduling the conference to a later date.
You will be refunded in full if you already purchased a ticket. If you do not receive a refund, please contact us. Once the conference is re-scheduled, we will inform you. Thank you!
——————————————————————————————————–
Christian Medical Conference
Separate the Science from the Rhetoric
Abortion: Is it really healthcare?
This conference is a first in Hawaii. Join us as we explore the contentious topic of abortion with national speaker, Dr. Anthony Levatino. This conference will help you understand the issue and know compassionate resources of hope for those dealing with an unexpected pregnancy or in need of healing from a past experience.
Many healthcare professionals are not aware of the facts and full impact of abortion on their patients or society. Aloha International Mission is excited to present a statewide Christian medical conference to educate the medical professional community about the issue of abortion. Ex-Abortionist and national speaker, Dr. Anthony Levatino will be discussing his unique perspective as a physician and attorney.
This conference includes multiple workshops that you can choose from
Discounts for students of healthcare professions (MD, RN, NP, etc) and pregnancy volunteers ($20 flat rate)
Two free tickets are offered to every church leadership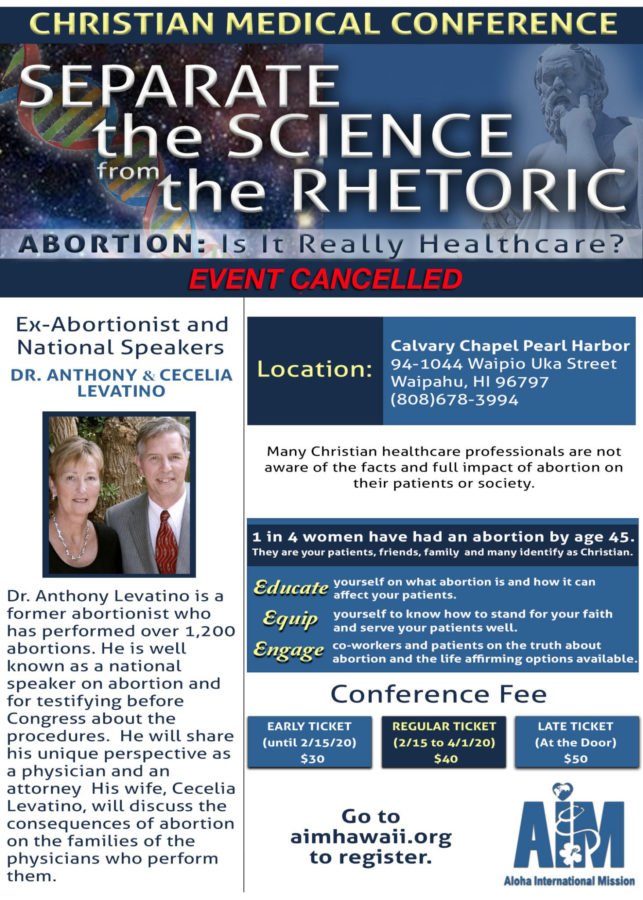 CANCELLED (Praying for another opportunity to host this event).