By Muriel C. Walker
God's protection for Missions is Prayer. These are the words that ran across my mind as the words of prayer flowed from my heart in response to a prayer request for a mission team. God's protection over those involved in missions begins and ends with prayer.
It is not an insignificant thing to pray for those involved in kingdom work. Not only for those involved, but for every aspect before, during and after the work is completed. Many times thoughts of opposition would arise as I lifted my voice and thoughts in prayer saying what I was doing did not matter or argued I was wasting my time. I overcame those thoughts with the truth that we are not ignorant of the enemy's devices. Naturally, he doesn't want us to pray.
Jesus prayed for the disciples (John 17) and He intercedes for us today (Romans 8:34). We ought also intercede and pray for one another (Ephesians 6:18). Even Paul in 1 Thessalonians 5:25 valued the importance of prayer and asks that the brethren pray for he and his fellow workers in ministry.
Don't be discouraged or feel that your words of prayer do not make a difference. Prayer works and is needed. There are so many factors involved in the preparation and execution of going on a mission trip. Of course, any time good is present obstacles and hindrances find a way to trickle in. That's life in general. This is where the words of believing prayer come in operation to help make a significant difference. It's the work of the Spirit of God over the missions, over the people, over the totality of the heart and work involved.
Whether you have the wonderful opportunity to go on missions or you are back on the home front supporting know that prayer is essential. To help with the important focus of prayer, I have compiled from my own prayer time, from others requests and those I've come across in readings a day-to-day prayer focus. Below you will find a link to a printable PDF for your use. This is one of four One-Month Prayer Calendars that will be made available for you or your group to use giving you a prayer focus for each day of any given month.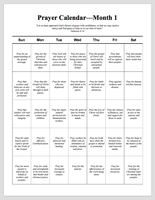 Prayer Calendar Month 1 (click to view)
Prayer Calendar Month 2, Month 3 and Month 4 will be made available in upcoming postings!
Please feel free to use these calendars put together for your personal use as well as to share with those who have a heart and mind to pray for the work involved in missions.
Ephesians 1:15-16, "Wherefore I also, after I heard of your faith in the Lord Jesus, and love unto all the saints, cease not to give thanks for you, making mention of you in my prayers."
Your prayers are important in covering those who carry out the work of the Kingdom of God and to those hearts and souls that will be touched.
My friend, Pray on!!!