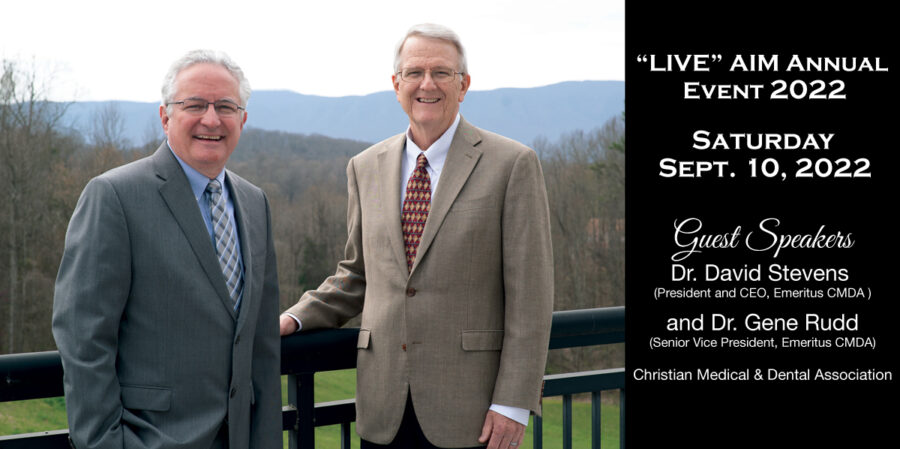 ALOHA INTERNATIONAL MISSION ANNUAL EVENT 2022
Guest speakers are Dr. David Stevens (President and CEO, Emeritus CMDA) and Dr. Gene Rudd (Senior Vice President, Emeritus CMDA), Christian Medical and Dental Association.
Please scroll down to read their impressive biographies!
*** REGISTRATION IS NOW CLOSED ***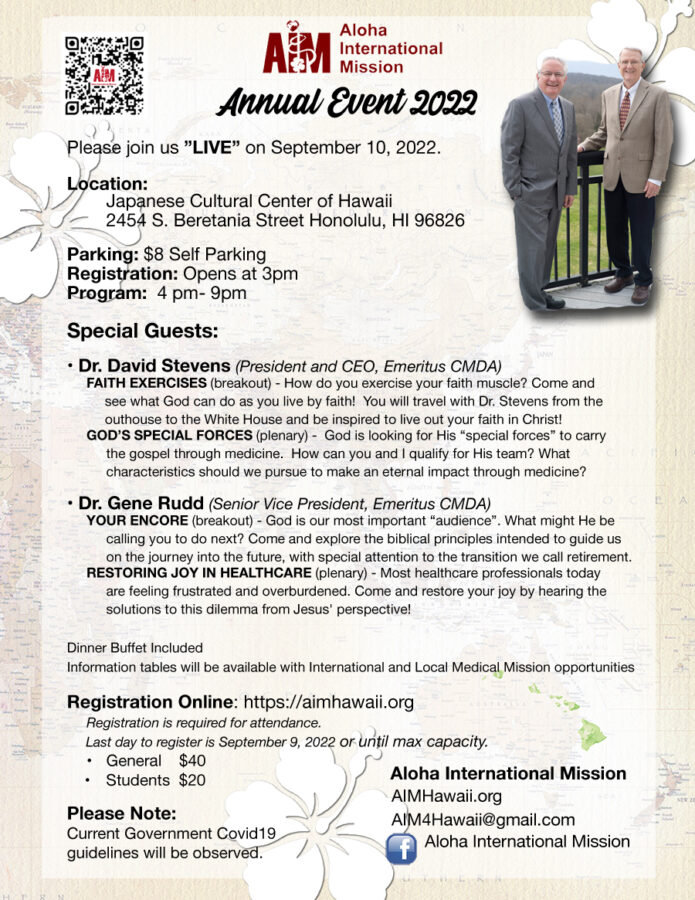 ---
David Stevens, M.D., M.A. (Ethics)
President and CEO, Emeritus CMDA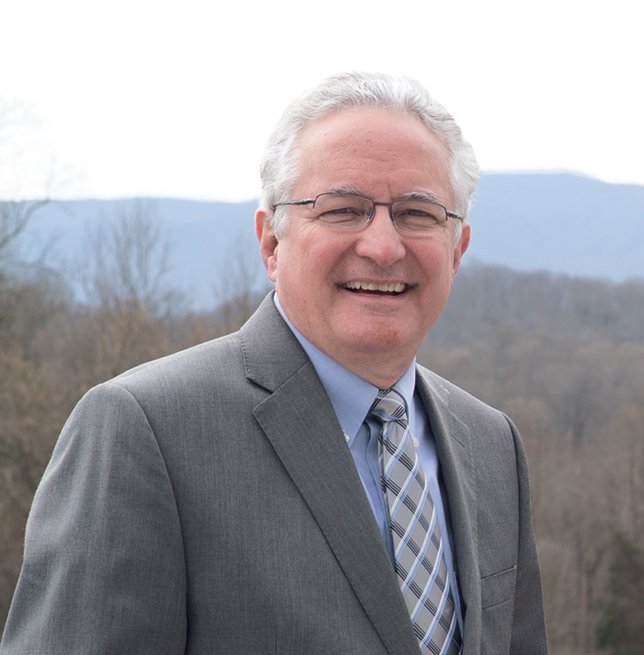 Dr. David Stevens served as the Chief Executive Officer of the Christian Medical & Dental Associations, the nation's largest faith-based organization of doctors for 25 years. He is now CEO Emeritus. Dr. Stevens, as spokesman for 19,000 Christian healthcare professionals, has conducted over 2000 media interviews on bioethical, public policy and scientific issues, including CBS Evening News, ABC World News, MSNBC, BBC-World Television, CNN Sunday Morning, Newsweek, FOX News, PAX-Television, Tech TV, Associated Press, JAMA, USA Today, Family News in Focus, National Public Radio and many other national outlets.
Prior to his service with CMDA, Dr. Stevens served as medical director of World Medical Mission. In Somalia, Dr. Stevens led an emergency medical team that treated 45,000 suffering Somalis in the midst of war. In the Sudan, medical teams under his leadership treated over 25,000 villagers to stop the spread of an epidemic.
From 1981 to 1991, Dr. Stevens was a missionary doctor at Tenwek Hospital in Bomet, Kenya where he served as Medical Superintendent and Executive Officer. At Tenwek, he directed a $4 million development plan, secured the installation of an $850,000 hydroelectric plant, oversaw the start of a nursing school and doubled the size of the hospital. The community health care and development programs he designed at Tenwek are currently reaching over a million Kenyans and serves as an example of what medical outreach in the developing world can accomplish.
Dr. Stevens' experiences provide rich illustrations for inspirational and educational presentations at seminars, medical schools, conferences, and churches. His topics include stem cell research, human cloning, genetics, faith and health, physician assisted suicide, international and community based health care, emergency medical relief, abortion and other medically related subjects. He is the author of Jesus, MD, Beyond Medicine and co-author of Leadership Proverbs and Servant Leadership and writes many chapters and magazine articles. He is in demand to preach in local churches and at mission conferences.
Dr. Stevens holds degrees from Asbury University, is an AOA graduate of the University of Louisville School of Medicine and is board certified in family medicine. He earned a master's degree in bioethics from Trinity International University in 2002 and served on the boards of World Gospel Mission and Asbury University. He has regularly taught at the Christian Medical & Dental Associations' educational seminars for missionary physicians and dentists in Kenya, Malaysia, and other forums. He was a catalyst for starting the Global Missionary Healthcare Conference, trains new healthcare missionaries three times a year and annually leads a Summit for executives of mission organization which are doing healthcare ministry. He is a Fellow of the Biotechnology Policy Council of the Wilberforce Forum and helped found the National Embryo Donation Center. Dr. Stevens and his wife, Jody, have a son, Jason, and two daughters, Jessica and Stacy and eleven grandchildren, all who are involved in domestic or international healthcare ministry.
The Christian Medical & Dental Associations is a national organization of Christian doctors that seeks to change hearts in healthcare. Founded in 1931, CMDA promotes positions and addresses policies on health care issues; conducts overseas and domestic healthcare projects; coordinates a network of Christian doctors for fellowship and professional growth; sponsors student organizations in medical and dental schools; distributes educational and inspirational resources; holds marriage and family conferences; provides international doctors with continuing education resources; and conducts academic exchange programs overseas. CMDA was voted as one of the Best Christian Places to Work, a study commissioned by Christianity Today.
PRESENTATION SUMMARIES
1) Breakout: Faith Exercises
Just as your body won't be strong unless you work out, you can only strengthen your faith by exercising it. What principles will help you to do that with your family, your community, your church and your practice? What results should you expect? In this session Dr. Stevens will use Christ's teaching method of telling stories to share a principle as he draws on his forty years of experiences as a medical missionary, leading relief teams into war zones and motivating, training and equipping healthcare professionals to glorify God as the CEO of the Christian Medical & Dental Associations. You will travel from the outhouse to the White House and see what God can do as you live by faith.
2) Plenary: God's Special Forces
The military tasks it special forces with the most difficult and dangerous assignments. God is looking for his "special forces" to carry the gospel through medicine to some of the most difficult area of the world. Do you and I qualify for His team? What characteristics should we pursue? Drawing upon his years as a medical missionary, as well as leading relief teams into war zones and epidemic hotspots, Dr. Stevens uses compelling stories to answer these questions.
---
Gene Rudd, MD
Senior Vice President, Emeritus CMDA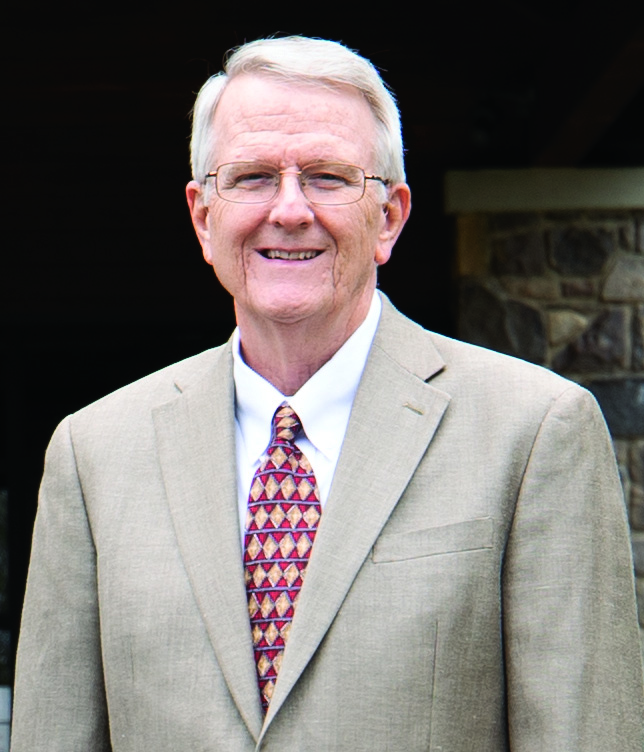 For 25 years Gene Rudd, MD served as Senior Vice President of the Christian Medical & Dental Associations (CMDA), a national organization of over 19,000 doctors and dentists, founded in 1931. The Christian Medical & Dental Associations seek to change the face of healthcare by changing the hearts of doctors. CMDA provides fellowship and growth opportunities for physicians and dentists; sends volunteers on medical missions at home and overseas; provides discipleship for medical and dental students on over 95% of America's medical school campuses; promotes biblical positions on bioethical issues; and supports missionary doctors and dentists through continuing education. Dr. Rudd now serves CMDA as its Ministry Advisor.
A specialist in obstetrics/gynecology, Dr. Rudd has experience in medical education and in rural healthcare. He has garnered several awards including the Gorgas Medal, presented by the U.S. government for the most significant achievement in preventive medicine. As a spokesman for Christian doctors in America, Dr. Rudd has received national media coverage, including appearances on National Public Radio, American Family Radio and Salem Radio Network, as well as the Wall Street Journal, Christianity Today, The Washington Post and People. He is co-author of Practice by the Book.
Dr. Rudd has also conducted international programs with Samaritan's Purse/World Medical Mission, where he established the Christian Medical Mission of Russia. He directed the rehabilitation of the Central Hospital in Kigali, Rwanda. Dr. Rudd has also served in Belarus, Bosnia, Kazakhstan, and India.
Dr. Rudd's experiences provide rich illustrations for inspirational and educational presentations. He has communicated what God is doing through Christian medicine by speaking at seminars, conferences and churches.
He and his wife, Brenda Gay, have four children and eleven grandchildren.
PRESENTATION SUMMARIES
1) Breakout: Your Encore
An encore is an additional performance called for by the audience. Mindful that God is our most important "audience," what might He be calling you to do next? This session will explore biblical principles intended to guide us on the journey into the future. While these principle are applicable at any stage of life (career changes, relationships, etc.), we will give special attention to the transition we call retirement.
2) Plenary: Restoring Joy in Healthcare
This presentation will document the frustrations experienced by most healthcare professionals. The medical literature has identified several underlying causes that undermined the satisfaction historically associated with caring for others. Interestingly, the solution for this dilemma was taught by Jesus 2000 years ago. Now, research in both the fields of business and medicine provide proof that these principles can restore joy in healthcare.
---
*** REGISTRATION IS NOW CLOSED ***
Date:  Saturday September 10, 2022
Location:  Japanese Cultural Center of Hawaii, 2454 S. Beretania Street Honolulu, HI 96826
Parking:  $8 self parking
Time: Registration opens at 3 pm  | Program from 4 pm – 9 pm
Cost:  $40 adult  | $20 student (all open seating)
Special Guests:
Dr. David Stevens (President and CEO, Emeritus CMDA)
FAITH EXERCISES (breakout)  | GOD'S SPECIAL FORCES (plenary)
Dr. Gene Rudd (Senior Vice President, Emeritus CMDA)
YOUR ENCORE (breakout)  | RESTORING JOY IN HEALTHCARE (plenary)
Dinner: Buffet Included
Information tables will be available with International and Local Medical Mission opportunities
* Current COVID19 guidelines will be observed